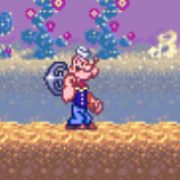 Game Description: Popeye: Ijiwaru Majo Seahag no Maki is a fun platform game that features a large variety of stages. Playing as popeye you'll have to make it across this world battling against bad guys and defeating bosses such as Brutus.
Controls: "Enter Key" = Start Game. "Arrow Keys" = Move. "Z", "X", "A", "S", "D", "C" Keys = Action Keys. To Save Game Progress State Press = [Shift+F2], Load Progress State [Shift+F4], or use Save/Load buttons seen in-menu when scrolling mouse over.
Platform Information: Super Nintendo. Play Popeye: Ijiwaru Majo Seahag no Maki online through your PC or Mobile web browser.