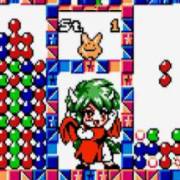 Game Description: Pocket Puyo Puyo 3 (AKA: Puyo Puyo Sun) is the 3rd game in the Puyo Puyo series and was originally only released in Japan. In this installment, there is a major single-player mode known as Puyo. Each difficulty mode (Easy, Medium, and Hard) of play features a different character along with their own story. Characters include Draco Centauros, Arle Nadja, and Scherzo Wegley. This is a great installment in the series and overall very solid. Enjoy!
Controls: "Enter Key" = Start Game. "Arrow Keys" = Move. "Z" & "X" Keys = Action Keys. To Save Game Progress State Press = [Shift+F2], Load Progress State [Shift+F4], or use Save/Load buttons seen in-menu when scrolling mouse over.
Platform Information: Game Boy Color. Released in 1998 by Compile. Played with Java online.