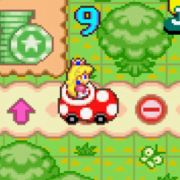 Game Description: Mario Party Advance is a party-style board game that features fun mini-games to play. The goal is to make it around the board with a 1st place finish. To accomplish this you'll have to have a little luck and complete mini-games better than opposing players. You can select from four Nintendo characters including Mario, Luigi, Princess Peach, and Yoshi. This is a really fun game once you get into it!
Controls: "Enter Key" = Start Game. "Arrow Keys" = Move."Z", "X", "A", "S", "D", "C" Keys = Action Keys. To Save Game Progress State Press = [Shift+F2], Load Progress State [Shift+F4], or use Save/Load buttons seen in-menu when scrolling mouse over.
Platform Information: Game Boy Advance. Play Mario Party Advance online through your PC or Mobile web browser. Created By Hudson Soft in 2005.