(NOTE: This Game Takes Time To Load. Please Wait!. This game works for PC web browsers only.)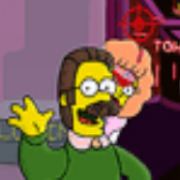 Game Description: Homer is has gone crazy. With a shotgun, a fully loaded homer will go through level shooting various characters from the cartoon series. He is really after Flanders though!
Controls: Use Arrow Keys to move.
Platform Information: Flash / HTML5. Play Homer The Flanders Killer 3 Online through your PC web browser.