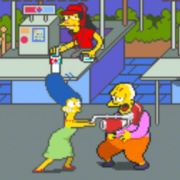 Game Description: This is The Simpsons beat 'em up arcade game. You'll be able to play four different Simpsons family characters including Bart, Homer, Marge, and Lisa. While Smithers was trying to steal a diamond from a jewelry shop, he bumped into homer on his way out, the diamond flew up in the air and landed in The Simpsons baby Maggie's mouth. Smithers and Mr. Burns have kidnapped baby Maggie. Now it's up to the family to save their baby Maggie. You'll punch and kick your way through awesome levels. Every level features a boss at the end. This game stays very loyal to the TV series, you'll encounter familiar side characters while you're playing!
Controls: "Shift Key" = Add Coin (Required before Starting game) "Enter Key" = Start Game. "Arrow Keys" = Move. "S" and "X" Keys = Action Keys. To Save Game Progress State Press = [Shift+F2], Load Progress State [Shift+F4], or use Save/Load buttons seen in-menu when scrolling mouse over.
Platform Information: Arcade. Played with JAVA online. Created By Konami in 1991.