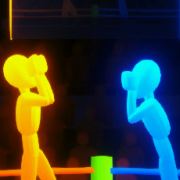 Game Description: An addicting boxing game where you'll play as orange and blue boxing stickman who act like they are drunk while boxing. Try to knock out your opponent as fast as you can!
Controls: Use Mouse to make selections. Follow In-Game Controls.
Platform Information: HTML5. Play Drunken Boxing 2 KO Champion Online through your PC or mobile web browser.